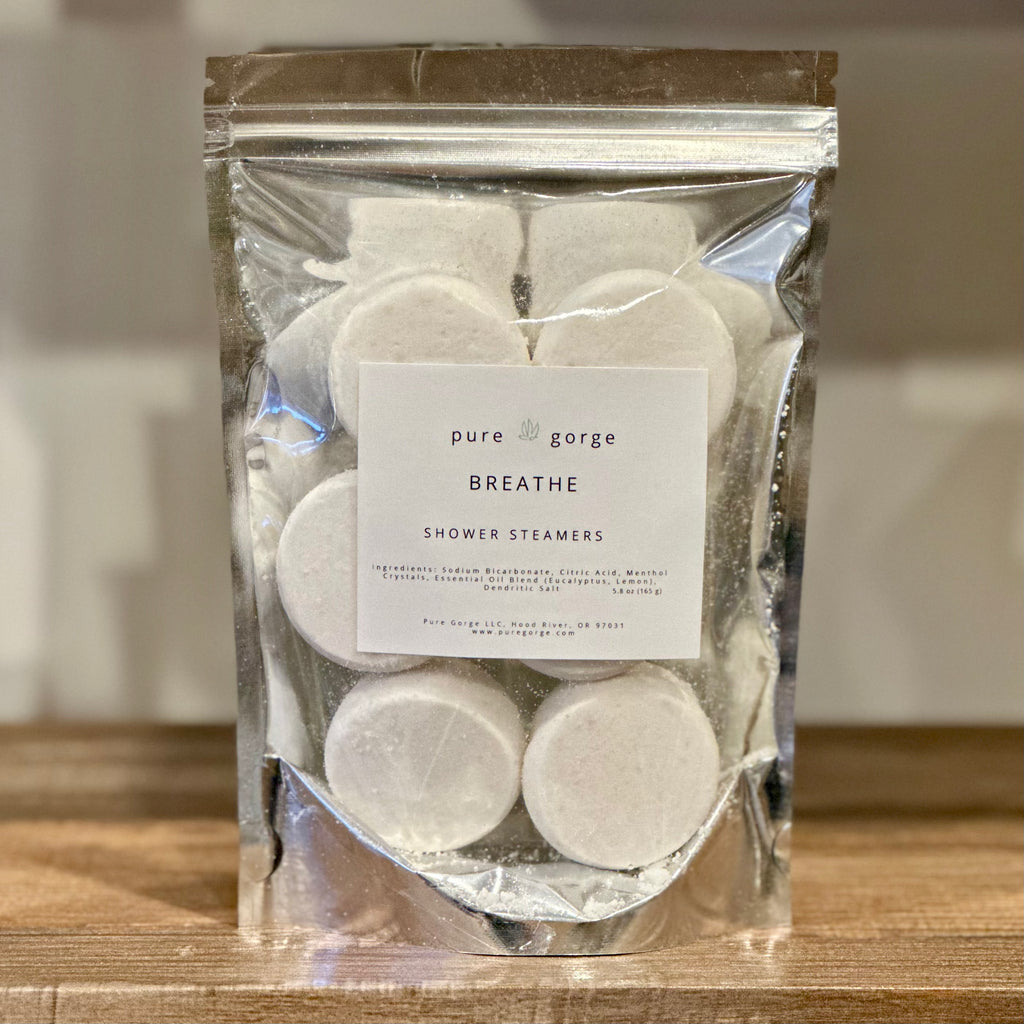 Shower Steamers - BREATHE - 6-Pack
Shower Steamers - BREATHE - 6-Pack
Package of 6 Breathe scented shower steamers ready to-go! A total of 5.8 ounces of aromatherapy goodness. Hand crafted in Hood River, Oregon.
Place your shower steamer in your shower out of direct contact of the full stream of water, but in a spot where sprinkles of hot water will moisten it to activate the steamer. When activated by hot water, the essential oils and menthol in the steamer are released into the steam providing a wonderful aromatherapy experience. To adjust the strength of the vapor you can bring the steamer nearer to you, either placing in a soap dish or mesh bag closer to you, or further away if the scent is too strong. Depending on the amount of water contact, these shower steamers can last for 1 or more showers.
Cautions: For use in showers only — do not place in bath water. Due to the high concentration of menthol and essential oils, avoid prolonged skin contact and wash hands after handling. Do not use if allergic to any of the ingredients. Discontinue use if irritation or adverse reaction occurs. Not for internal consumption. Keep out of reach of children.
Packed in a foil pouch. Store in a cool dry place out of direct sunlight. Tip: For extra freshness, once pouch is opened, store steamers in a glass jar to lengthen the life of the scent.
Ingredients: Sodium Bicarbonate, Citric Acid, Menthol Crystals, Essential Oil Blend (Eucalyptus & Lemon), Dendritic Salt.
Dimensions: Each steamer is approximately 1.5" in diameter and 3/4" deep and weighs approximately 0.96 oz | 27 g. Each item is hand crafted so please expect some variance.
---
---
More from this collection