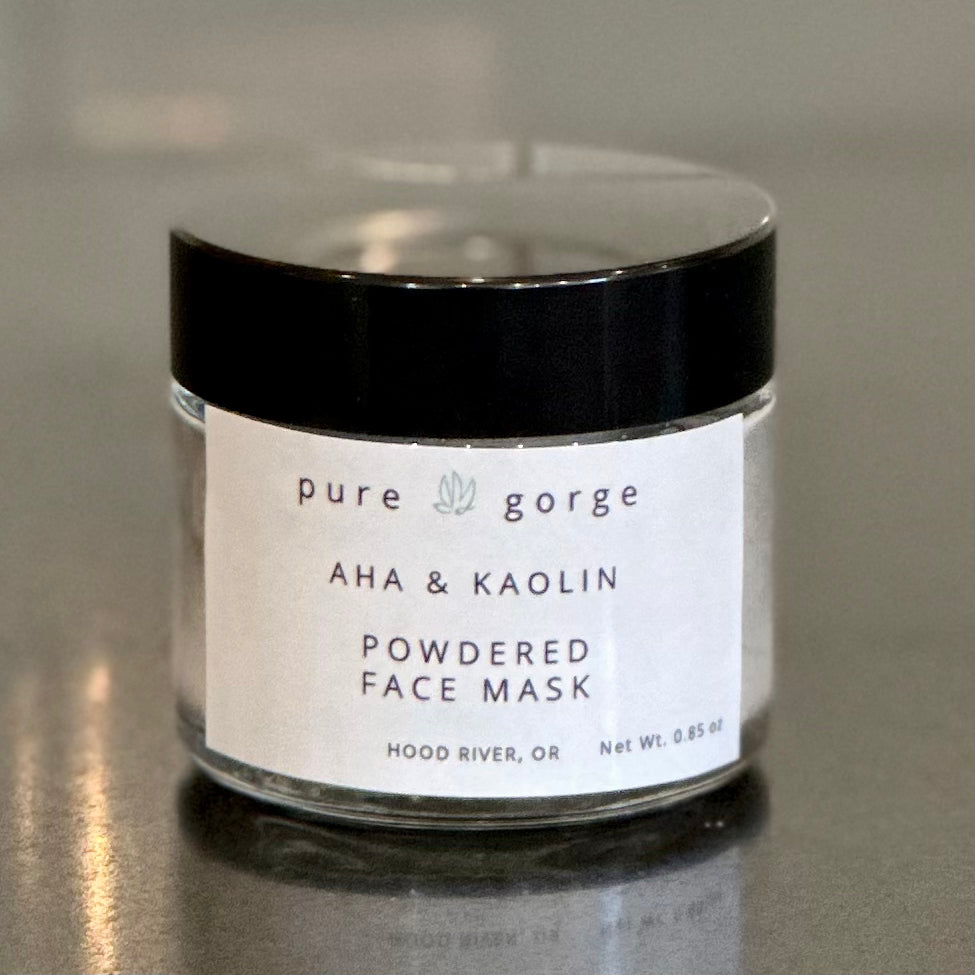 Powdered Face Mask - AHA & Kaolin
Powdered Face Mask - AHA & Kaolin
Refresh and purify your skin with this refining face mask. Natural Alpha Hydoxy Acids (AHA's) gently exfoliate to reveal vibrant skin, clays remove impurities, and goats milk calms and hydrates. 
Our powdered face masks are packed with nutrients and antioxidant-rich properties that are designed to be activated with a liquid chosen by you. Hydration with water works well, or elevate your experience by using skin-beneficial hydrosols or distillates, milks, vinegar, or fruit or vegetable juices. 
Directions: Mix two parts powder to one part any liquid suitable for hydrating the mask. A thinner mask can be made by adding more liquid, and a thicker mask can be created with less liquid. Keep mask on until dry, or rehydrate on the face by gently massaging in more liquid for light exfoliation and a longer mask experience. Gently rinse off with warm water and follow up with a good moisturizer. Powdered masks are designed for immediate use after hydration and do not contain a preservative, so it is important not to store for future use.
Caution: Some ingredients may stain fabric or other surfaces. Store powdered mask in a cool dry place, out of direct sunlight. Discontinue use if irritation occurs. Do not use if allergic to any ingredients. Not for internal consumption. Pregnant or lactating people should consult a doctor prior to use.
Ingredients: Kaolin Clay, Bentonite Clay, Manganese Violet, Malic Acid, Citric Acid, Tartaric Acid, Goat Milk
2 oz Volume Glass Jar: Net Wt. 0.85 oz | 24 g
Mini Tester Sachet: Net Wt. 0.21 oz | 6 g
---
---
More from this collection